BARTONS PHOTO JOURNAL – SEPTEMBER 12, 2021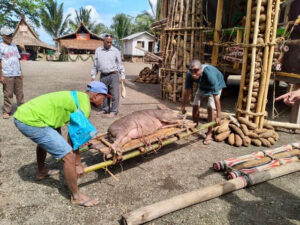 Celebration Preparation!
This photo shows some typical bits of a celebration coming together in Papua New Guinea. These men are bringing a pig, which will become part of a celebratory feast. Also visible in the photo are piles of yams, including the "towers" filled with yams. In the southeastern part of PNG yams are not only a staple crop, they carry a special cultural significance and an abundance of them demonstrates wealth and generosity.
Helping to take the Word of God to the people of Papua New Guinea
David & Deborah Barton
PO Box 1-144 Ukarumpa EHP 444 Papua New Guinea
Dave PNG cell +675 7253 1506
Deb PNG cell +675 7362 9818
Wycliffe Bible Translators
PO Box 628200 Orlando FL 32862-8200
For online donations
https://www.wycliffe.org/partner/barton
To email us
david_barton@sil.org