So much has happened since we last wrote! We have settled back into life in PNG and are feeling very much at home. Our return was a very difficult adjustment for Josiah. He had plugged into life in the USA and very much enjoyed all of the amenities and conveniences of living in the western world. He loved being a part of a larger community at the school he attended and the activities and choices they offered there. He was quite unhappy after our return, but as friends have returned and life has gotten back to normal, he has finally settled in. He enjoyed a seven-week break from school and his tenth grade year is off to a good start.
James was accepted into the Air Force last January and completed his basic training in Texas in February. He completed his technical training in Air Transportation at Fort Lee in VA. There were some delays in getting his orders and arranging travel back to Pennsylvania before finally shipping out to Ramstein Air Force Base in Germany on the 8th of July. He is settling into a routine and has enjoyed re-connecting with friends he made during his training. Please pray for him to thrive and grow as he transitions into his first assignment.
Monday, August 2nd was a happy day for SIL and the Bible Translation Association (BTA) of Papua New
Guinea. After several delays, the two organizations were finally able to launch the LingCrop training program. LingCrop stands for Linguistics Consultant Resourcing of PNG ̶ a three-year mentored program meant to train young, well-educated Papua New Guineans to become linguistics consultants with SIL or BTA. After their three years they will be offered the possibility to do an MA in linguistics abroad and serve the cause of Bible translation in PNG.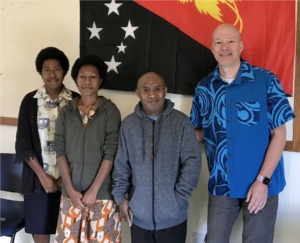 Simatha Tramaff, Linda Murom and Cletus Aigeeling, three young trainees with a recent BA in linguistics from the University of PNG, are the first batch and they are ready for the challenge. They have moved to Ukarumpa, and are keen to start their studies.
As director, David officially opened LingCrop by welcoming the trainees, encouraging them to persevere and by praying a blessing over them.
When we returned, Deb began working in our Finance Office in the "Member Finance" position. In a way, this is full circle from when we arrived nearly 22 years ago. Deb's very first job in PNG was in this office, doing many of the same things that she is doing now. She is assisting members with moving funds between their home country and PNG and maintaining accounts, among other duties. This can be challenging, especially for people who are just arriving on the field, and those who are leaving permanently. She has also been assisting with paying invoices for things that our members and departments purchase from around the world. We have several different systems for paying bills, as we deal with different currencies, depending on where those transactions take place. It has been a nice change for her and has been going well.
She has also just recently taken on a new position which she is excited about. Our teens have very little opportunity for employment here in PNG. Living in a remote area makes it difficult for them to earn any spending money, and even more difficult to get real-world job experience. Many years ago, the Teen Centre was built to give our youth a place to call their own. It has a gymnasium, a full service kitchen, a stage, and a function room. It is used for roller skating, sports, worship, parties, and many other activities. It's been a tradition here for the teens to operate a 'restaurant' for our community there on Friday nights, fondly known as "Hamburger Night", or "Teen Centre". When Covid restrictions were implemented here, it made it very difficult to continue operations, and the manager that they had last year went on furlough in June. With nobody coming forward to fill the gap, it looked like it would be a year with no Hamburger Nights. Knowing what a boon this service is to community morale, and how important it is to our teens, Deb decided to give it a try.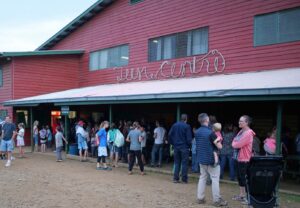 They opened the second week of the school year and have had two very successful Hamburger Nights already. Praise God for two amazing student managers and a great staff of students and adult volunteers. Please be praying that Hamburger Nights will be a blessing to the teens and to the community and that Deb will do a good job of managing it responsibly. Also pray against covid restrictions which could shut it all down at a moment's notice.
Prayer and Praise
Praise God that we have plugged back into life here in PNG and that things have been going well.
Praise for James' successful transition to his Air Force assignment at Ramstein Air Force Base.
Praise for a good school break, and for more people who have recently returned.
Praise that David has only two more courses to complete in order to finish his Bachelor's in Business Administration Leadership.
Pray for Deb as she has taken on another significant role. Pray that the Teen Centre operations will be successful and a great experience for all involved.
Pray for Josiah (and our teachers and other students) in this new school year.