Barton Photo Journal (21 Aug 2022)
Christian Leadership Course!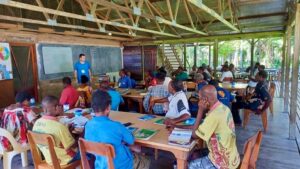 This photo shows the start of a course on Christian Leadership that started last week on the northern coast of PNG. Please pray for the many workshops currently taking place. There are also several other training events happening including Applied Anthropology, Culture Meets Scripture, a chronological Bible study and Greek. Much of the work we do involves building capacity within the PNG Church and it is exciting to see these men and women growing in their knowledge of the Lord. Photo from friends, Willem and Esther Van de Bruinhorst.
Helping to take the Word of God to the people of Papua New Guinea
David & Deborah Barton