BARTONS PHOTO JOURNAL – OCTOBER 3, 2021
Keakalo Scripture Portions!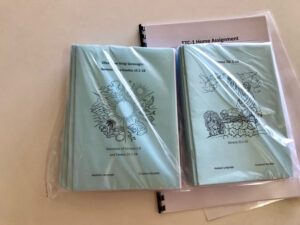 Last week a course called "TTC" or Translators Training Course, finished up at our training center. Attending the course were several speakers of the Keakalo language, which is located in Central province of PNG. At the graduation ceremony David took this photo of some Scripture portions wh
ich were translated during the course. These booklets are the first time these Scripture portions have been printed in the Keakalo language. Even after being in PNG for over twenty years, it still amazes us to see God's Word being produced in a new language for the very first time!
Helping to take the Word of God to the people of Papua New Guinea
David & Deborah Barton
PO Box 1-144 Ukarumpa EHP 444 Papua New Guinea
Dave PNG cell +675 7253 1506
Deb PNG cell +675 7362 9818
Wycliffe Bible Translators
PO Box 628200 Orlando FL 32862-8200
For online donations
https://www.wycliffe.org/partner/barton
To email us
david_barton@sil.org