Dear Pastor and Church,
It is our desire that you are in good health.
Today after a few days of intense heat, God blesses us with a refreshing and cold wind.
Here in the jungle we still have restrictions and we cannot go out on weekends using our own vehicles and there are other restrictions as well.
Juan Pablo traveled to Tingo María four days ago, on the road there was a mudslide and he had to stay several hours on the road, thank God he arrived safely and now he is developing several projects, teaching new believers to have their time alone with God, and other ministerial things. Please pray for him and for the people with whom he will share God's Word.
We are attaching our letter, there we will tell you a little more about us.
Hugs for you, God bless you,
Juan Pablo & Marianela García.
Commission Ministers Network
P.O. Box 291002
Kerrville, TX 78029-1002
https://www.cmnetwork.org/juan-marianela-garcia/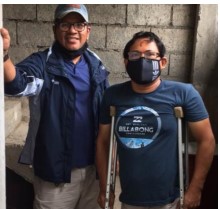 Dear Pastor and Church,
After the primary elections, which are mandatory here, I, Juan Pablo, was able to travel to the city of Tingo María. This time I took
Omar as a travel companion, a young man with various abilities who will work as a teacher in the programs we are developing for the
ministry.
We had eight hours of travel and enough time for me to share the good news of salvation with him. Omar accepted the Lord Jesus
Christ as his personal Savior. He is staying in Tingo María and I continue to communicate with him to encourage him in his faith.
We continue to pray for our future leader in Peru. We are going into a second election and are worried about what will happen in this country if the leftist, socialist, and Marxist candidate wins, who has not denied his relationship with terrorist groups from the past. On the other hand, the alternative candidate is the daughter of a former Peruvian president who is in jail for his crimes against humanity
and for corruption. We believe that whatever the outcome, God calls us to continue to be faithful ministers in the preaching of the gospel. Please keep praying for us in this regard.
The COVID 19 infections have spiked again and the government has intensified the quarantine, raising the risk level in the jungle to extreme. Now the government is forcing us to use a double mask plus a face shield to enter a supermarket, pharmacy, store, and any another place with an influx of people.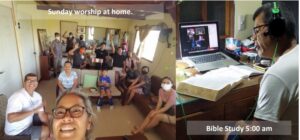 We praise the Lord for:
• The salvation of Omar (The young man who traveled with me to help us teach in Tingo María).
• The freedom to continue preaching and teaching the word of God virtually in the local Church.
• The Bible seminary classes that JP can have virtually.
• His financial provision for our family and ministerial support. Thank you for blessing us.
PLEASE CONTINUE TO PRAY FOR US FOR THESE REASONS:
• The presidential elections in Peru.
• The spiritual growth of the people who come to faith in the Lord Jesus Christ.
• For the next trips to the mountains, to continue ministering among people with different abilities and skills.